Sebagai sebuah organisasi yang terpercaya, PermataBank menempatkan dirinya sebagai titik padu bagi berbagai kebutuhan dari para pemangku kepentingan dengan beragam latarbelakang status sosial, ekonomi, suku, ras, agama, budaya, usia dan gender. Kami memahami, keberagaman ini adalah suatu kekuatan dan kekayaan yang bernilai bagi PermataBank.
Maka, memasuki tahun kedelapan, Permata Photojournalist Grant (PPG), ajang yang ditunggu-tunggu oleh para pewarta foto dari seluruh penjuru Indonesia tiap tahunnya, kali ini mengangkat tema "Diversity". Tema ini menjadi sangat relevan karena Indonesia merupakan Negara besar yang merangkul berbagai bentuk keragaman dari kebudayaan hingga sumberdaya alam.
Program PPG VIII tahun ini berupa pelatihan (workshop) fotografi yang diikuti oleh sepuluh pewarta foto terpilih, dan grant untuk menyelesaikan proyek foto bertutur (photo story). Pelatihan dimulai pada 11 Desember 2018, dibagi ke dalam 12 sesi kelas yang berdurasi dua kali sepekan, dengan materi utama dalam bentuk foto bertutur dan penulisan, dipandu oleh praktisi-praktisi berpengalaman. Pelatihan PPG VIII ditutup dengan tiga hari kelas intensif bersama Jenny Smets, yang hadir pada pelatihan tanggal 11-13 Februari 2019. Hasil workshop para peserta selanjutnya dipresentasikan kepada publik melalui pameran foto yang berlangsung dari 20 Maret – 12 April 2019 dan penerbitan buku foto bertajuk Diversity.
As a well-trusted organization, PermataBank has long established itself as an integral point for the various needs and interests of its stakeholders, who come from differing social and economic backgrounds, ethnicities, race, religions, culture, age, and gender. It is with pride that we consider this diversity as a key strength and value of PermataBank.
It is then fitting that, now in its eighth year, Permata Photojournalist Grant (PPG), as an event that is eagerly awaited each year by photojournalists throughout Indonesia, sets "Diversity" for its theme. This is especially relevant as Indonesia is a large country which embraces diversity in its many forms of indigenous culture as well as variety of its natural resources.
This year's PPG VIII program consists of a photography workshop for the ten selected photojournalists and a grant to complete a photo story project. The workshop, which started on 11 December 2018, was held twice a week in 12 class sessions. Under the mentorship of experienced practitioners, the participants received trainings on photo stories and writing. PPG VIII workshop concluded with a three-day intensive class with Jenny Smets from 11 to 13 February 2019. The participants' works developed in the workshop were presented to the public through a photo exhibition which running from 20 March – 12 April 2019 and a photo book titled Diversity.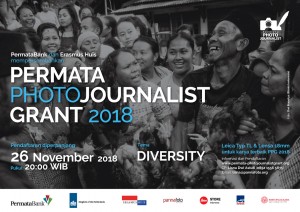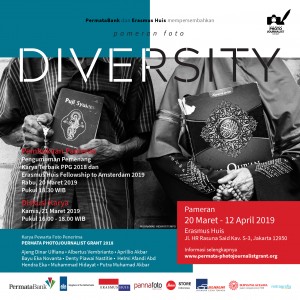 Komite Program // Programme Committee