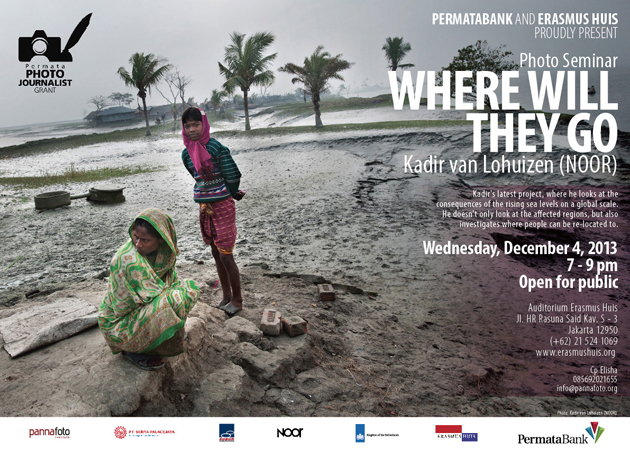 PermataBank and Erasmus Huis proudly present :
Photo Seminar 'Where Will They Go'
Kadir van Lohuizen (NOOR)
Kadir's latest project, where he looks at the consequences of the rising sea levels on a global scale. He doesn't only look at the affected regions, but also investigates where people can be re-located to.
Wednesday December 4, 2013
7 – 9 pm
Open for public
Auditorium Erasmus Huis
Jl. HR Rasuna Said Kav. S – 3
Jakarta 12950
Phone  (+62) 21 524 1069
CP Elisha
085692021655
Kadir van Lohuizen (The Netherlands, 1963) has covered conflicts in Africa and elsewhere, but is probably best known for his long-term projects on the seven rivers of the world, the diamond industry and migration in the Americas. He has received numerous prizes for his work, including two World Press Photo awards. In September 2007, Kadir and ten others established the photo agency and foundation NOOR. Kadir became a member of the supervisory board of World Press Photo in 2008. To date, he  has published four photo books, including "Diamond Matters, the trail of the diamond" and "Rivers". In 2011, Kadir started Via PanAm, a 12-month journey along the Pan-American highway, investigating contemporary migration in the Americas. Kadir is based in Amsterdam.