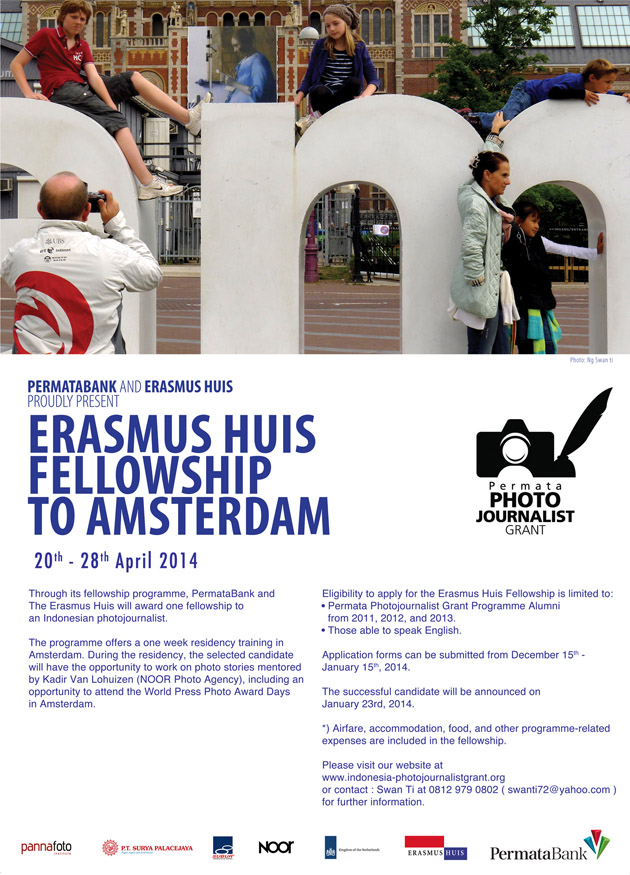 Through its fellowship programme, PermataBank and The Erasmus Huis will award one fellowship to an Indonesian photojournalist.
The programme offers a one week residency training in Amsterdam. During the residency, the selected candidate will have the opportunity to work on photo stories mentored by Kadir Van Lohuizen (NOOR Photo Agency), including an opportunity to attend the World Press Photo Award Days in Amsterdam.
Eligibility to apply for the Erasmus Huis Fellowship is limited to:
Permata Photojournalist Grant Programme Alumni from 2011, 2012, and 2013.
Those able to speak English.
APPLICATION
Complete (in English) and send the available application form along with your CV and latest headshot in digital format (3x4cm).
Send your photo story proposal which you will be working on during your stay in Amsterdam. The proposal should contain information such as the title and the summary or a short description of the photo story in a maximum of 100 words/3 sentences. You should also write why the story is important for you and/or the audience.
Send your portfolio by following the guidelines below:
1 (one) photo story on any subject of your own choice with a maximum of 12 photos (set at 72 dpi, 1200×8 pixels). We prefer photo stories which done after the PPG program.
Attach the photographs in your email.
Name each photograph file with the photographer's initial. For example: TO-Photo01, TO-Photo02 … in the order which the photographs are arranged to suit the photo story.
Each photograph you send must be accompanied by a caption.
Include the text / story of the photo story you send us.
SENDING THE APPLICATION
Application forms can be submitted from December 15th – January 15th, 2014.
Your application form, CV, latest headshot (in digital format), photo story proposal and  portfolio should be sent to info@pannafoto.org
The successful candidate will be announced on January 23rd, 2014.
SELECTION PROCESS
The selection process will be conducted by PannaFoto Institute Mentor, Kadir Van Lohuizen (NOOR) and an independent photographer.
The selection process will consider photo stories which have been worked on during PPG programme, as well as the candidates' proposals and portfolios.
The candidates' English comprehension.
ABOUT THE PROGRAM
Airfare, accommodation, food, and other programme-related expenses are included in the fellowship.
The chosen fellow must provide a Letter of Permission to join the programme from the Photo Editor or the person in charge at his or her workplace.
The chosen fellow must also hold a photo story sharing session in Jakarta, in May 2014, to talk about his or her experience during the fellowship.
Please visit our website at www.indonesia-photojournalistgrant.org or contact :
Swan Ti at 0812 979 0802 ( swanti72@yahoo.com ) for further information.