PermataBank percaya bahwa pendidikan merupakan salah satu faktor krusial untuk membuat perbedaan dan perubahan yang lebih baik dalam masyarakat.
Salah satu wujud komitmen dalam memajukan dunia pendidikan Tanah Air adalah penyelenggaraan Permata PhotoJournalist Grant (PPG), program pertama PermataBank yang didedikasikan untuk mengembangkan ilmu dan talenta pewarta foto Indonesia. Dalam tugas kesehariannya, mereka membuat karya visual dan mewartakan kepada publik apa yang sedang terjadi di dunia ini. PPG diharapkan dapat menjadi wadah belajar agar mereka mampu mempersembahkan karya terbaik bagi masyarakat.
Program berupa pelatihan (workshop) fotografi yang diikuti oleh 10 pewarta foto terpilih, dan grant untuk menyelesaikan proyek foto bertutur (photo story). Pelatihan dimulai tanggal 24 November 2015, dibagi ke dalam 16 sesi kelas yang berdurasi dua kali seminggu, dengan materi utama adalah foto bertutur. Materi pendukung yang juga diajarkan seperti pendalaman proposal cerita, riset, dan multimedia, dipandu oleh praktisi-praktisi berpengalaman. Kelas PPG V ditutup dengan 2 hari kelas intensif bersama pewarta foto Belanda, Kadir van Lohuizen, tanggal 17-18 Februari 2016. Hasil workshop para peserta selanjutnya dipresentasikan kepada publik melalui pameran foto dan penerbitan buku foto bertajuk Indonesian Intangible Heritage.
Dalam PPG V, program "Erasmus Huis Fellowship to Amsterdam" diluncurkan untuk ketiga kalinya, berupa beasiswa bagi satu alumnus PPG dari semua Angkatan untuk berkunjung ke Amsterdam dan mengerjakan satu photo story di bawah bimbingan Kadir van Lohuizen dari agensi foto ternama, NOOR, pada April 2016.
PermataBank believes that education is a very crucial factor in creating significant changes toward a better society.
One of PermataBank's commitments in improving the nation's education is shown through Permata PhotoJournalist Grant (PPG), the first program dedicated to developing the techniques and talents of Indonesian photojournalists. A photojournalist's daily task involves creating visual work and reporting to the public about everything that happens in the world. PPG is expected to provide a learning environment where Indonesian photojournalists are able to hone their skills and create even greater works for the society.
This program of a photography workshop was attended by 10 (ten) selected photojournalists who each of them received a grant to finish a photo story. The workshop began on November 24, 2015 and was held twice a week in 16 classroom sessions. The main lesson taught was about a photo story and other additional lessons including further techniques to make a photo story proposal, research and multimedia with each lesson taught and guided by experienced practitioners.
PPG V sessions ended with a two-day intensive class taught by a Dutch photojournalist, Kadir van Lohuizen on February 17 and 18, 2016. Participants are required to present their works through a photo exhibition and a photography book titled "Indonesian Intangible Heritage".
In conjunction with PPG V, the Erasmus Huis Fellowship To Amsterdam Program was held for the third time. It is a scholarship for one person PPG alumni of all classes are eligible to it. The scholarship will send a recipient to Amsterdam in April 2016 to create a photo story under the guidance of Kadir van Lohuizen of the well-known photo agency NOOR.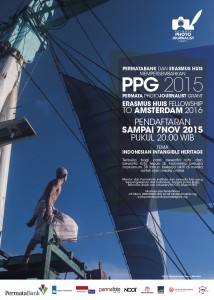 Komite Seleksi, Mentor, dan Kurator
Peserta
Portfolio
Final Project