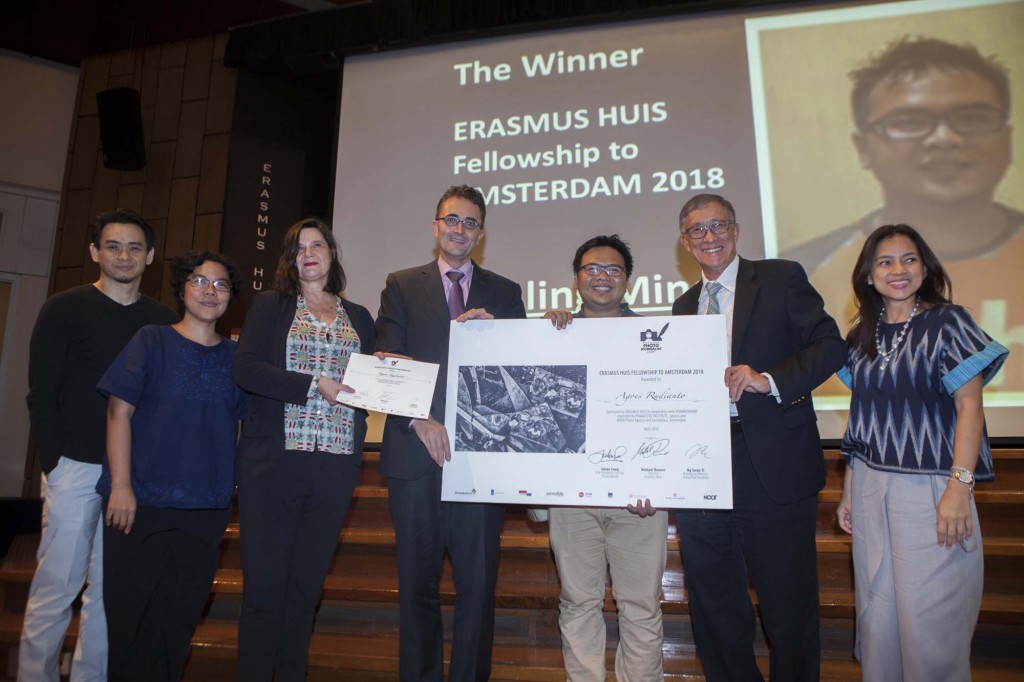 (ki-ka: Wilson Gunawan (Leica Store Indonesia), Ng Swan Ti (PannaFoto Institute), Jenny Smets (Vrij Nederland), Michael Rauner (Erasmus Huis), Agoes Rudianto, Julian Fong (PermataBank), dan Richele Maramis (PermataBank))
Agoes Rudianto dengan karya berjudul "Healing Mind", penerima Erasmus Huis Fellowship to Amsterdam 2018. Melalui program ini, Agoes akan mendapatkan kesempatan untuk melakukan residensi dan menyusun sebuah photo story di bawah bimbingan Kadir van Lohuizen (NOOR Photo Agency), sekaligus kesempatan untuk menghadiri World Press Photo Award Days di Amsterdam, Belanda.
---
Agoes Rudianto, menyelesaikan studi Ilmu Komunikasi di Universitas Sebelas Maret, Solo, pada 2011. Mulai menekuni fotografi saat bergabung dengan UKM Fisip Fotografi Club (FFC) di kampus. Setelah lulus kuliah, ia bergabung dengan salah satu media cetak lokal selama tujuh tahun. Dalam tiga tahun terakhir, ia aktif berkontribusi sebagai fotografer pada kantor berita di Turki. Ia juga pernah mengikuti berbagai pameran, salah satunya yang diselenggarakan di The Museum of Drug Policy di New York, Amerika Serikat. Agoes juga merupakan alumni PPG 2016.
(Foto: Muhammad Adimaja)