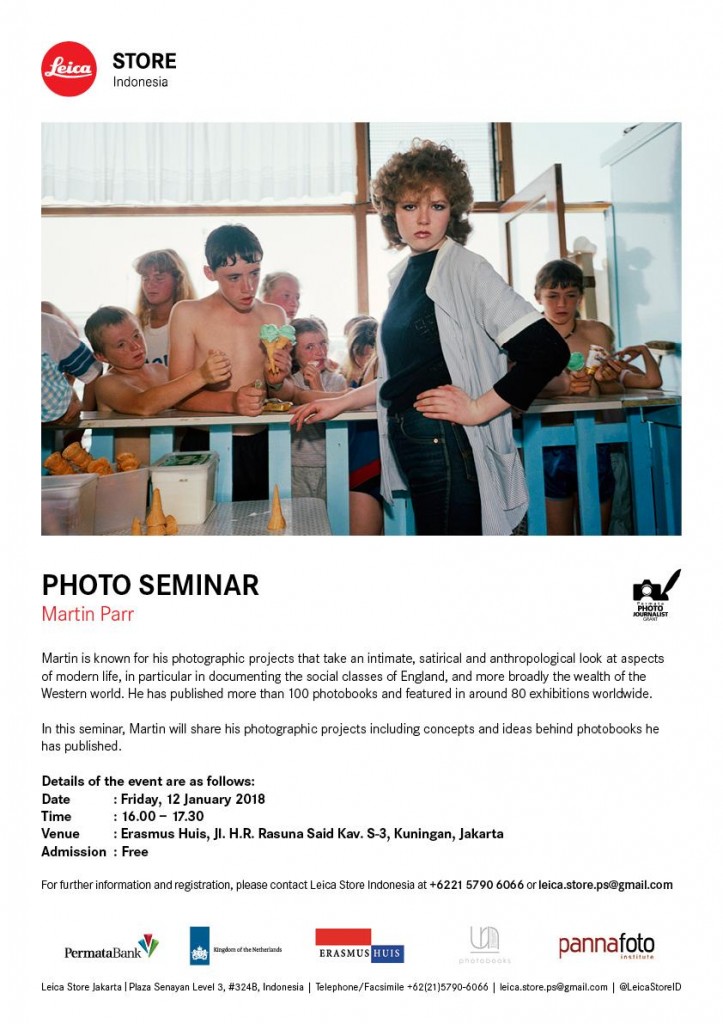 Martin is known for his photographic projects that take an intimate, satirical and anthropological look at aspects of modern life, in particular in documenting the social classes of England, and more broadly the wealth of the Western world. He has published more than 100 photobooks and featured in around 80 exhibitions worldwide.
In this seminar, Martin will share his photographic projects including concepts and ideas behind photobooks he has published.
Details of the event are as follows:
Date : Friday, 12 January 2018
Time : 16.00 – 17.30
Venue : Erasmus Huis, Jl. H.R. Rasuna Said Kav. S-3, Kuningan, Jakarta
Admission : Free
For further information and registration, please contact Leica Store Indonesia at +6221 5790 6066 or leica.store.ps@gmail.com
---
OPEN CALL: INDONESIAN PHOTO BOOK
PannaFoto Institute would like to invite fellow photographers and publishers to participate in Indonesian Photo Book Exhibition 2018. This event is held to complement a photography seminar with Martin Parr (Magnum Photos).
The exhibition takes place on Januari 12, 2018 at Erasmus Huis Foyer, from 11 am to 6 pm.
Terms and Conditions:
The photography books meet either of the following requirements; made by Indonesian photographer(s), showcase themes or photos taken in Indonesia, made by foreign photographer(s) published both in Indonesia and internationally.
Multiple entry by either artists, photographers or publishers is allowed.
The books must be submitted along with a synopsis and colophon in English, as well as a completed form containing the personal information of the entrants.
The submission is due on January 5, 2018.
The books can be collected in person on the last day of the exhibition (January 12), mailed back with a shipment fee, or kept at PannaFoto Library to be used as references as well as included in the next exhibitions.
We will also display selected books from the collection of PannaFoto Library. If you'd like to know if your book is one of them, don't hesitate to contact us.
For confirmation and further details, please be in touch with Ms. Lisna at info@pannafoto.org or +62 852 155 65 835.
Send your entry to:
Ms. Lisna Dwi
PannaFoto Institute
℅ Ohana Bistro
Jl. Melawai IX/4
Jakarta, Indonesia
Our gratitude goes to Leica Store Indonesia, PermataBank, Embassy of the Kingdom of the Netherlands, Erasmus Huis and Unobtainium for the enormous support. We'd also like to thank our friends for your kindness and participation. See you at the exhibition!